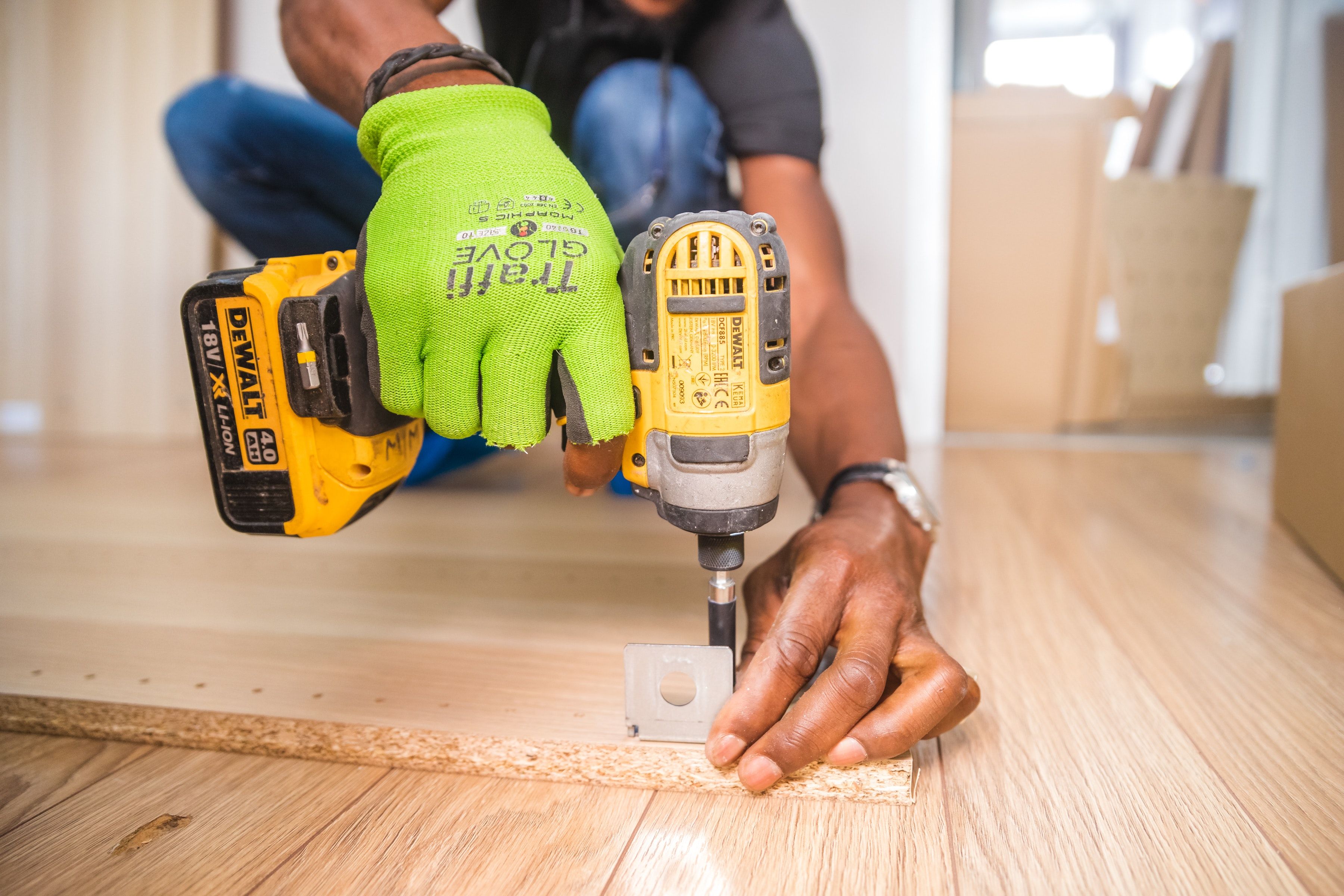 Renovating your home can be daunting, especially when it comes to deciding which projects are worth investing in. With so many options available for potential upgrades, it's hard to know what will provide the most value. To simplify the process, we've compiled a list of some of the most valuable renovation projects you can do in your home. We also give you some examples of how you can do them yourself!
Homes with a laundry area sell for $32,138 above the nation's median list price of $397,862.
Renovating your laundry area can bring a number of benefits, including improved efficiency and convenience. A well-thought-out laundry renovation will make the space more useful by optimizing storage and layout. This can reduce the amount of time spent on chores and increase the overall productivity in the room.
Luxury laundry area renovation
Joelle Uzyel is a luxury interior designer who showcases an extraordinary laundry area on her TikTok. The dog station has an oak counter that contrasts with matte gray cabinets and drawers containing all your dogs' supplies. Just past the first washer and dryer set is a dog-washing area with textured gray walls and a large drained shower area for your furry friend. A smaller tub for handwashing is available for more delicate items and the space has an additional washer and dryer set along with a fabulous island to do your folding. It doesn't get much better than this!
Budget laundry area renovation
Allison Bickerstaff offers an elegant laundry area renovation idea on her TikTok. There, she demonstrates how to make the space more enjoyable without breaking the bank. Starting with a soothing sage green color for a single wall, she then uses some plywood from Lowes for shelves and adds in a rolling storage cart from Target. Finishing off the look is a variety of wicker baskets and clear jars.
Homes with ceramic floors sell for $73,088 above the nation's median list price of $397,862.
Ceramic floors are a great choice for any home. They offer a number of benefits, including durability, ease of cleaning, and resistance to moisture damage. Installing ceramic tile can add value to your property both aesthetically and financially due to its popularity amongst homebuyers and long lifespan—ceramic tile can easily last 75-100 years!
London Mosaic specializes in Victorian floor tiles as well as contemporary geometric schemes. They offer full customization on designs and stock a large range of high-quality ceramic tiles suitable for interior and exterior use. At a thickness of 9mm, they are not only decorative but robust.
Budget ceramic tile renovation
@hollybushhome on Insta shows off how elegant ceramic tiles can look even when paired with a minimal color palette. Neutral hues and clean lines provide modern elegance and a ceramic floor delivers the kind of durability that's appealing to many homebuyers. Stoneandtileshoppe.com offers a 18x18" Arenella Off White Ceramic Tile for $1.59 per square foot. This video from Best Online Cabinets shows how to install ceramic tiles while keeping them level and using the smallest grout line possible.
Homes with an eat-in area sell for $26,739 above the nation's median list price of $397,862.
An eat-in kitchen is a kitchen with a designated space in the home for meals and snacks. It can be as simple as an eating nook or as elaborate as a full kitchen dining room. Eat-in areas are becoming more popular because they provide an opportunity to bring people together, creating an inviting atmosphere for conversations and shared meals. They also allow homeowners to use their space more efficiently by combining the kitchen and dining room into one multifunctional area.
Renovating an eat-in area can increase the aesthetic appeal of the space. It can also add more seating and provide a better layout that maximizes useability.
Serenity meets luxury in this exquisitely designed eat-in kitchen from Kabieva Bahyt on Instagram. Statement light fixtures mesmerize against cool, muted hues. Added architectural touches hint at neoclassical inspiration. It's a timeless space that's sure to delight guests. Get the look with this similar style Bernardi Ceiling Lamp or this Kohler Lighting Drum Chandelier, and enhance your ceiling with crown molding. Paint your cabinets with Benjamin Moore's Feather Gray, and embellish with minimal, gold-colored cabinet hardware. Installing a signature curved range hood creates an attractive focal point, while stunning marble promises an elegant choice for a contrasting backsplash. Go for a design like these Caracole chairs and a round, marble-topped table.
Japandi Interior on Instagram melds Japanese aesthetics with Scandinavian practicality in this chic eat-in that contrasts organic forms against a geometric, neutral backdrop, showing that one eye-catching furniture concept and light fixture can bring a whole space together without much additional fuss.
Renovating a home office has many benefits, both practical and financial. Practically speaking, redoing this area will provide an improved workspace with more efficient storage solutions and better-suited furniture for the specific needs of the user, resulting in increased productivity as well as greater comfort while working from home.
Luxury home office renovation
Texture, detail, and inspired lighting abound in this elegant home office from Karen Asprea on Insta. Achieve a similar result for your own space by installing glamorous shelving, purchasing an upscale desk and coffee table, rolling out a casually patterned floor-covering, and hanging a trio of gold-and-crystal chandeliers. Adding wall coverings that mimic fiber and granite provide an appropriate backdrop for dark hues and metallic accents. Want additional ceiling embellishment? Installing this crown molding allows you to easily employ LED lighting above your space to produce a subtle, indirect glow.
Budget home office renovation
This coastal-inspired office from Melissa Bristow on Instagram soothes with dark walls that contrast with wood-like floors. Creating this look can be accomplished by painting your home office with a dark, eggshell interior paint similar to Benjamin Moore's Baby Seal Black. Install ample cabinets and shelves to provide storage or purchase a few bookshelves and line them against the wall for a simpler approach. You can also add 3 ⅜" wide crown molding to bring a touch of finesse to the ceiling. Vinyl plank floors make for an easy DIY project and when topped by a geometric-patterned rug and a mid-century modern desk, the result is a nice mix of cozy and professional sure to inspire productivity while maintaining comfort.
Investing in landscape improvements can go beyond just aesthetic benefits, they offer financial benefits as well. According to professor Mark S. Henry at Clemson University, leveling up your landscaping could increase your home's value by 28%. Depending on what type of plants/trees/shrubs you choose, these renovations reduce energy bills by as much as $250 per year thanks to added shade during summer months. Both landscaping and features such as pools, fountains, and pergolas can add a level of visual impact to your property that can't be understated, enhancing your lifestyle and backyard enjoyment.
Luxury backyard renovation
A spectacular fountain and pergola make this backyard space from CM & Co on Instagram a one-of-a-kind poolside experience. Build high walls for privacy and embellish them with solar-powered light fixtures. Adding plants, wicker furniture, and solar lanterns will keep the area cozy. You can construct your own rain curtain by following the instructions on this step-by-step video from The Best How To By Clem, or purchase any attractive pergola and add a rain nozzle or waterfall attachment like this one from Sheer Water Designs.
Budget backyard renovation
Reece and Paul known as @littleedwardian on Instagram show how they made the most of a small backyard renovation. To transform your own yard, consider building a privacy fence, erecting simple trelliswork, installing raised planters, spreading gravel, and purchasing a few well-placed furniture pieces that can be painted to match your aesthetic. A dark fence provides contrast to light-colored footing while bordering greenery adds privacy. Accent your space by selecting attractive pillows and unbreakable dinnerware for your next outdoor gathering.
Are any of these ideas inspiring you? If you're looking to increase your home's value or want to create a more attractive living space, we hope you've found some motivation to dive into your next home improvement project!
Looking for more home ownership insights?
Whether you're thinking of putting your home on the market or just beginning your homeownership journey, contact us today! Our team of experienced real estate agents can help guide you through the process and make sure that everything goes smoothly. We look forward to hearing from you soon!